When front and rear wheels encounter a simultaneous deflection, the fluid suspension stiffens in response to the upward motion and, while acting as a damping medium, transfers the load to the rubber springs giving a controlled, vertical, but level motion to the car.
Suspension stiffens in response to upward motion of front and rear wheels, giving controlled, level, vertical movement.
The restriction of the fluid flow, imposed by the small bore piping, rises with the speed of the car. The ride is therefore steadied at high speeds and softened at low speeds a most satisfying condition hitherto only achieved by complex and costly means.
The drawings reproduced here are diagrammatic so that the principle of Hydrolastic suspension is easily seen. In the actual car, the front suspension units - seen below - are mounted horizontally across the engine bulkhead.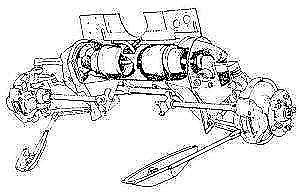 The displacer units can be easily seen in the housing.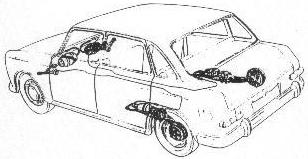 General layout of the Hydrolastic suspension with the inter-connecting pipes.
Not to be confused with the Hydro-pneumatic suspension used by Citroen. Their system is not a hermetically sealed pressure system like the Hydrolastic system used by BMC.
Citroen use a hydraulic pump system that raises and lowers the car to different heights. A more superior system but more costly to manufacture and maintain. The extraordinary thing about their Hydro-pneumatic system, is that it doesn't use o-rings as seals. The pistons and bores are machined to incredible tolerances (microns), making seals unnecessary.